Welcome to the official website of Hal White, author of The Mysteries of Reverend Dean. If you like impossible crimes, locked-room murders and mysteries that are so unusual as to seem supernatural, you've come to the right place.
Click on the above links to learn more about the stories in Reverend Dean, read excerpts from the book, learn about Hal White, and find other books and TV shows featuring impossible crimes and locked-room murders.
The Mysteries of Reverend Dean gives you six stories and six chances: Can you explain how each murder was committed before the story ends?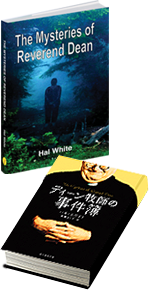 The young man lowered his voice, but sounded all the more intense for doing so.
"Reverend," he said solemnly, "if God didn't do it, then it doesn't make any logical sense."
"Oh, it makes perfect sense," the reverend replied. "It makes perfect, horrible sense."
Read more


Follow @HalWhiteBooks on Twitter to receive updates on locked-room stories, movies and web sites.
Praise for The Mysteries of Reverend Dean
White successfully creates a modern-day Father Brown in this outstanding collection of six impossible crime tales that fans of classic puzzles will hope is but the first of many. ... Effortlessly crafting intriguing situations, the author matches the premises with satisfying solutions while gently and unintrusively weaving questions of faith into the plot lines.
PUBLISHERS WEEKLY
I very much enjoyed them... May I be among the first (of many, I trust) to put in an advance order for the book.
BOB ADEY,
author of Locked Room Murders, and co-editor
of Murder Impossible and Death Locked In.
The stories are imaginative and beautifully presented. The book belongs with the works of Carr, Chesterton, Hoch, Halter and only a handful of other mavens of the locked room. It is rare to find a current writer who can master the Impossible Crime, but Hal has done it.
DOUG GREENE,
founder/editor of Crippen & Landru Publishers,
author of the Edgar-nominated biography,
John Dickson Carr: The Man Who Explained Miracles
and editor of numerous mystery anthologies.
...the plots are so ingenious that John Dickson Carr fans and other classical devotees won't want to miss these contributions to a demanding and increasingly rare criminous art form.
ELLERY QUEEN'S MYSTERY MAGAZINE
...there are few modern writers who have the patience and the cognitive faculties to engineer such stories. Hal White brings a breath of fresh air. ... This collection will delight readers who appreciate intricate plotting and enjoy the puzzling challenge of impossible crime.
THE STRAND MAGAZINE
Fans of impossible crime stories will be pleased and delighted with those presented in The Mysteries of Reverend Dean. ... A second volume of impossible crime stories featuring Reverend Dean would be most welcome.
MYSTERIOUSREVIEWS.COM
For puzzle purists, The Mysteries of Reverend Dean is a very satisfying read.
CRIMINALBRIEF.COM
... you should really read The Mysteries of Reverend Dean yourself. You won't be disappointed.
MYSTERYFILE.COM
In short: stories to stir your gray stuff. I look forward to more Reverend Dean stories.
BEWILDERINGSTORIES.COM
... it's a real pleasure to discover Hal White and his excellent detective, the Rev. Thaddeus Dean. ... I do hope we'll be seeing more of him in future books...
CLASSICMYSTERIES.NET